My Reading List: 30 books to base your life on
"I owe everything I am and everything I will ever be to books." ― Gary Paulsen
For as long as I can remember, I've always asked friends and family to gift me books for my birthday and Christmas.
I love reading. And I'm guessing many of you, as avid newsletter readers, do too.
As I wrote about last week, books give us access to hundreds of different worlds from the comfort of our couch. This increases our rate of learning. Not only do we learn from our own ups and downs, we get to learn from other people's lives as well.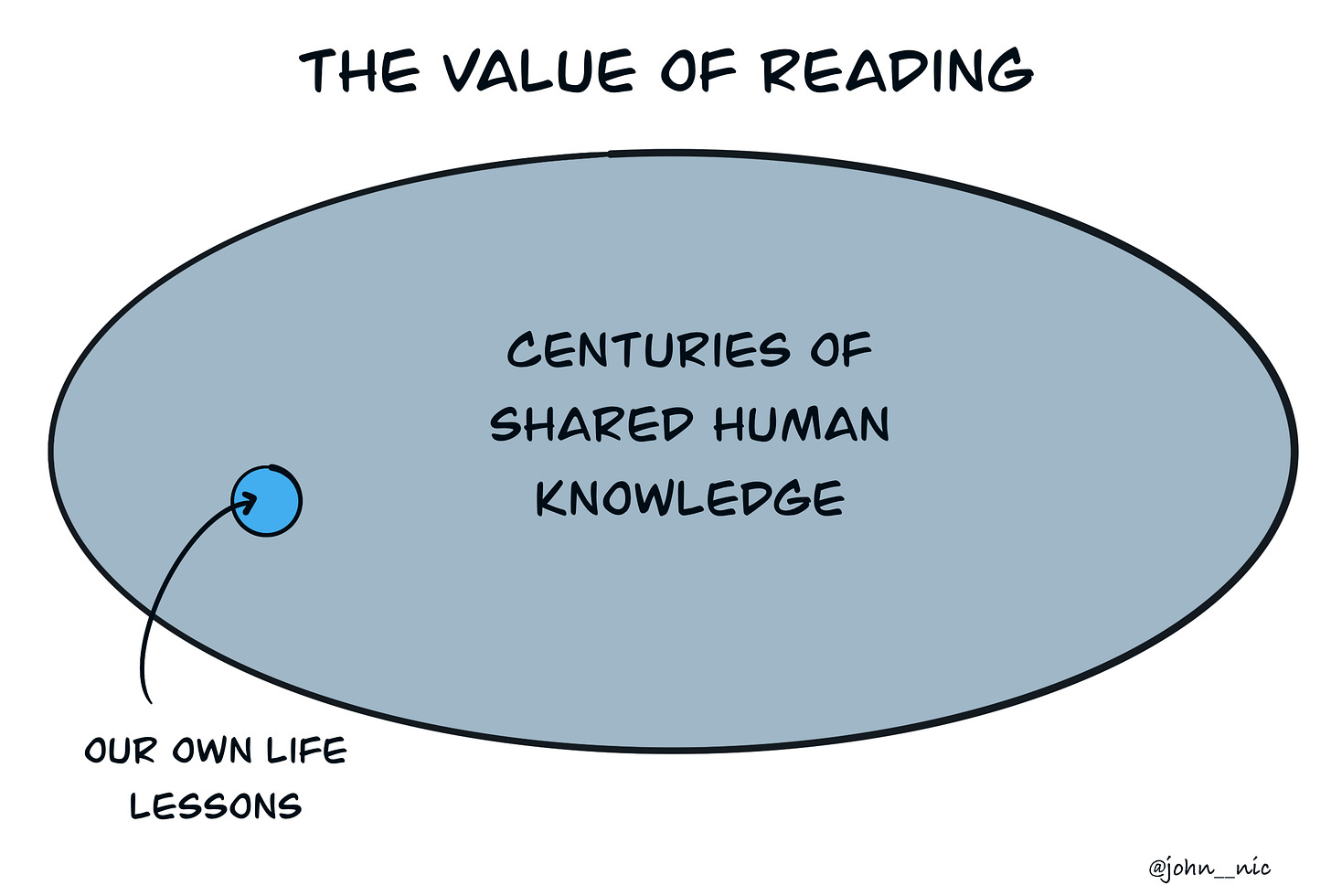 Tips to read more:
From a young age, I've devoured 20-40 books per year. If you want to read more, break it down:
Decide on your target, say 12 books a year. This comes down to one book per month There are usually 300 pages per book so you need to read 75 pages per week. Target 10 pages per day. This will take less than 5 minutes. So 5 minutes per day of reading can get you to your goal of 12 books per year.
Everyone has 5 minutes in their day. All you need to do is reframe reading. You can read while waiting in line, in your Uber, before a lecture, when your client or doctor is late, while driving (audiobooks) and during all the time you usually spend on your phone. Just look at downtime as potential reading time.
My only rule:
Don't be scared to shelve a book.
There are only so many books you can read in your lifetime. Don't waste your time reading nonsense or books that feel like a drag.
If you read 10 books per year from the age of 15 and you live to be 75 years old, that's 600 books total. Zip. Finito. Not so many books if you think about it.
📚 Book Recommendations (2023 edition)
When people ask me for book recommendations, this is what I send them.
Fiction
For fiction, I would recommend leaning towards the classics. Time is the greatest critic of all.
For something more modern, Booker Prize winners & nominees are a good place to start. Always high-quality writing and they're usually historical fiction so you learn something along the way.
1. War and Peace by Leo Tolstoy (1869). The classic that made the biggest impression on me. Set in the early 19th century, Tolstoy depicts the lives of people from all walks of life - peasants and nobility, civilians and soldiers - as they face Napoleon's invasion of Russia. I always think back to war hero, Prince Andrei Balkonsky, who rises above all his setbacks without becoming bitter about life. Anna Karenina, Tolstoy's other great work, is also a must-read.
2. A Farewell to Arms by Ernst Hemingway (1929). My favourite novel by Hemingway. A crushing, first-person account of an American serving in the ambulance corps of the Italian Army during World War I. Hemingway's books portray life as it is, with no frills or happy endings.
3. Blood Meridian by Cormac McCarthy (1985), which describes the journey of a band of scalp hunters during the Indian Wars of the 1840s in West Texas and Mexico. Although McCarthy is best known for No Country for Old Men, this is arguably his greatest work. Lots of gore with incredible philosophical segments about free will and the value of one's life thrown in between. I couldn't put it down.
4. The God of Small Things by Arundhati Roy (1997). A tale about the caste system and forbidden love during the time of the "Love Laws" prevalent in 1960s Kerala, India. A sensitive, but severe book. This line still haunts me: "That's what careless words do. They make people love you a little less."
5. Things Fall Apart by Chinua Achebe (1958). Depicts the impact of European colonialism and Christian missionaries on a family and community in Nigeria. Beautifully written.
6. The Remains of the Day by Kazuo Ishiguro (1988). This novel covers the life of a butler who serves an English Lord with ties to Nationalist Socialist political figures on the eve of World War II. Ishiguro is my favourite contemporary author. He has a way of capturing the inner psychology and 'overthinking' of the human mind and displays it brilliantly in his characters. He went on to win the Nobel Prize for Literature in 2017.
7. The Brothers Karamazov by Fyodor Dostoevsky (1880). Set in 19th-century Russia, the novel covers the circumstances leading up to the murder of an old count (Karamazov) and the subsequent arrest of one of his three sons. A big book covering big themes — religion, morality, and free will. Crime and Punishment, Dostoevsky's other great book, is a close second. Brothers K is claimed to be one of the greatest achievements in literature. As Hemingway said: "First there were the Russians and then there were the rest."
8. Do Not Say We Have Nothing by Madeleine Thien (2016). A sincere, heartbreaking book that covers the lives of one family as they face major upheavals in China during the 20th century, from the land reform campaign to the Cultural Revolution to the Tiananmen Square protests. A book that will stay with you for years to come.
9. East of Eden by John Steinbeck (1952). A rich, profound story set in the US at the turn of the 20th century. Previously I read The Grapes of Wrath, which I found excellent, if somewhat angry. East of Eden is pure poetry, with magnificent philosophical debates and a good amount of humour and irony. Steinbeck also describes it as his greatest work.
10. The Narrow Road to The Deep North by Richard Flanagan (2013). Depicts the story of Australian soldiers, captured in Japanese POW camps during World War II, who were used to build the Burma Railway. A tale of overcoming incredible hardship.
11. Shantaram by Gregory David Roberts (2003). The story of an Australian bank robber on the run in India in the 90s. Highly entertaining with lots of depth and humour.
12. The English Patient by Michael Ondaatje (1991). Set in Italy and Northern Africa during World War II, this novel tracks four characters whose lives are somehow intertwined - an injured pilot who is presumed to be English, his nurse, an Indian sapper (bomb diffuser) and a Canadian thief. The novel was later adapted into a film of the same name. Full of life lessons.
13. Disgrace by JM Coetzee (1999). Set in post-Apartheid South Africa, it describes the life of a professor who loses everything (his job, reputation and his ability to protect his family). It is a difficult but important read on how people exploit others to fulfil their needs. Coetzee went on to win the Nobel Prize for Literature 4 years later.
14. A Gentleman in Moscow by Amor Towles (2016). One of the books I've gifted the most. Set in Russia after the Bolshevik Revolution. An old count is sentenced to a lifetime of house arrest in the Metropol Hotel. A witty, endearing book.
15. The Three-Body Problem by Cixin Liu (2008). My favourite sci-fi book. An alien civilization looks to escape its star system that consists of three sun-like stars orbiting each other in an unstable system. A thought-provoking read about politics, science and hope.
Non-fiction
When deciding on my next read, I usually opt for fiction. Novels lend themselves to metaphors, imagery and a deeper analysis of the human condition.
That being said, some non-fiction books have made a serious impression on me and improved my life. Here they are:
1. Zen and the Art of Motorcycle Maintenance by Robert M. Pirsig (1974). A father and son set out on a road trip across America. Pirsig switches chapters between a description of their motorbike trip and deep, philosophical analyses of man's search for quality and the fight against the ego. Simply incredible.
2. Hackers & Painters: Big Ideas from the Computer Age by Paul Graham (2004). A collection of essays by one of my favourite modern essayists and one of the earliest 'online' writers. A mix of tech, philosophy and business. You can read all his essays here. Highlights: Life is Short and Making Wealth.
3. The Story of Philosophy by Will Durant (1926). A brilliant 101 guide on the lives and opinions of the world's greatest philosophers, from Plato to Nietzsche and Aristotle to Schopenhauer. This is the crash course I needed since I didn't have the time to read all the major works and original pieces. Durant's other book, the Lessons of History, is also a must-read for a concise history of the civilization and culture of mankind.
4. How To Win Friends and Influence People by Dale Carnegie (1936). The original, quintessential 'self-improvement' book. Wish I read this when I was younger.
5. Guns, Germs and Steel by Jared Diamond (1997). A comprehensive explanation of the rise of civilization and why the West had some luck. Prepare to be surprised. Similar themes to Sapiens by Yuval Harari and Civilization by Niall Ferguson (2011).
6. Endurance: Shackleton's Incredible Voyage by Alfred Lansing (1959). A testimony to the human spirit. Covers the story of the Imperial Trans-Antarctic Expedition led by Sir Ernest Shackleton, in its failed attempt to cross the Antarctic in 1914.
7. The Prince by Niccolò Machiavelli (1513). Although it was written more than 500 years ago, as an instruction on ruling cities and leading armies in battle, most of the lessons are still relevant for leading teams in modern sport and business.
8. Into Thin Air by Jon Krakauer (1997), who also wrote Into the Wild. A personal account of one of the deadliest seasons on Everest in 1996. Filled with incredible stories of bravery and selflessness as 8 people died attempting to summit the tallest mountain on earth.
9. The Gulag Archipelago by Aleksandr Solzhenitsyn (1973). A gutwrenching account of the Russian gulags - forced labour camps that existed in the Soviet Union from 1918 to 1956. An important read to understand the horrors of communism so we never repeat the same mistakes.
10. A New Earth by Eckhart Tolle (2005). A unified theory on mindfulness and transcending the ego. This reminded me a lot about Sam Harris's teachings and it provided good validation for my journey with meditation and seeking a deeper spiritual connection with life.
11. Educated by Tara Westover (2018). The story of a young girl that broke free from her anti-education, anti-government Mormon family. It's about rising above what you and other people think you deserve and believe you are capable of.
12. The Pathless Path: Imagining a New Story For Work & Life by Paul Millerd(2022). An inspiring book that sits close to my heart. Paul writes for everyone stuck in the monotony of a corporate career who wishes for a better, more fulfilling, more creative life.
13. A Guide to the Good Life: The Ancient Art of Stoic Joy by William B. Irvine (2008). Irvine gives a comprehensive account of all the Stoic lessons, from Negative Visualization to the Last Time Meditation. It was a tough call not to include Meditations by Marcus Aurelius here, but I like Irvine's analysis of all the great Stoic thinkers (from Seneca to Epictetus) and the application of their lessons. Truly a guide to a better life (if you apply the lessons).
14. Man's Search for Meaning by Viktor Frankl (1946). An awe-inspiring book which depicts Frankl's life as a prisoner in Nazi concentration camps during World War II, and how he used this experience to help his patients afterwards. Main lesson: they can take everything from you, but there's one thing they can never take and that's your attitude.
15. A Swim in a Pond in the Rain by George Saunders (2021). This book makes you fall in love with the classics again and helps you find a new appreciation for the art of writing. I give it a 5/5 purely for his choice of short stories to analyze (written by Russians in the 1800s), his actual analysis, his sense of humour and his understanding of the inner workings of a writer's mind.
Bonus (not sure where this one fits in): God's Debris by Scott Adams (2001). An excellent thought experiment on the different timelines your life could've taken, which you can read in one sitting (132 pages).
That's a wrap!
Which of these books have you read and are there any other books you would recommend? Help me prioritize the books I'll read in my life.
To close, here's Nassim Nicholas Taleb on why literature is good:
"Fiction is a certain packaging of the truth, or higher truths. Indeed I find that there is more truth in Proust, albeit it is officially fictional, than in the babbling analyses of the New York Times that give us the illusions of understanding what's going on. Newspapers have officially the right facts, but their interpretations are imaginary – and their choice of facts are arbitrary. They lie with right facts; a novelist says the truth with wrong facts."
---
Thanks to Rik van den Berge for reading drafts of this essay.
Originally published at https://johnnic.substack.com/p/one-for-the-books-51 on July 19, 2023.